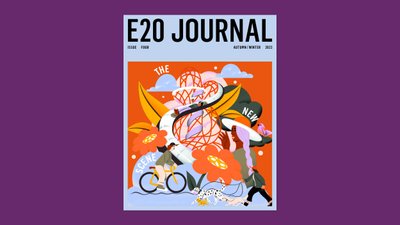 Explore all that W20 journal has to offer, including news and events from Westfield Stratford City and the local area.
Tumultuous times often make us wonder: what more can life throw at us? More bills, more worries, more uncertainty, more conflict. And how do we move forward when the future feels so fraught?
Often in times of crisis, creativity thrives. September brings a fresh, back- to-school mentality and the promise of a clean slate, giving us ample opportunity to rediscover, reinvent, and rebuild. It's the perfect time for all of us to reimagine ourselves and make more of what we have around us.
And what we have in our corner of London is really quite remarkable. This issue is simply dedicated to the outstanding artists, events and nearby attractions in E20. Iimmerse yourself in our local guide. There's a raft of culture, fun and free outdoor spaces to be enjoyed; we suggest you take full advantage of what's on your doorstep.
Meanwhile, we all want to be more mindful with our purchases, but with our budgets becoming tighter than ever, doing the right thing is not always easy. This issue gave us an opportunity to celebrate some designers who have worked hard to make sustainability more accessible. We talk to Nobody's Child CEO Jody Plows and get the lowdown on the sustainable fashion brand intent on producing ethical clothing at affordable prices.
Elsewhere, when the seasons change a natural reinvention occurs as we refresh our wardrobes, update our hair – even our skin sheds as the temperature drops. We show you how to master the change and keep your glow going with our top transitional skincare tips.
Lastly, who wants to grow up? When it comes to our vibrant living walls, we're all for it. Find out more about how the Urban Planters project has reinvented our biophilic designs. We're proud to provide a haven for birds and insects, in addition to enjoying a riot of colourful pollution- reducing plants. These green-fingered magicians are on site every week, providing expert care and maintenance – as well as some handy gardening tips, if you ask nicely.
Our space is positively thriving, come see for yourself.