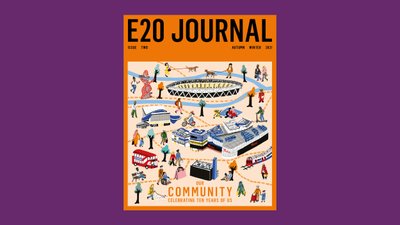 Explore all that e20 journal has to offer, including news and events from westfield stratford city and the local area.
Fresh thinking, bold ideas and a more inclusive approach are key to Westfield Stratford City. Do we have to do things the same way we always have? The answer is often no. We're constantly looking to collaborate with people who see things from a new angle and question the status quo. The new issue of E20 Journal heralds these game-changers, whose curiosity dares us to think differently.
What makes compiling this issue such a thrill is that along with championing these voices, we're also proud to celebrate our 10th anniversary and with it, our own achievements. Not ones to shun a party, we've celebrated our birthday in style with an exclusive performance by the iconic Lady Gaga. find out how you can join the fun and view this exciting event online.
Our guide to Fashion District's dynamic festival gives you a glimpse into the incredible five-day exploration of sustainability and innovation taking place in and around Stratford. Read how fashion disrupter Eshita Kabra-Davies, founder of fashion rental app By Rotation, will change your perceptions around sharing goods – and redefine the concept of 'new'.
Our accessories story challenges you to look at iconic pieces in a bold new way, and our kids' clothing guide will help you pick easy, hard-working pieces that will work with whoever your child wants to be. Coming up with a creative template for change is at the heart of what we do. We're delighted to show you how we try to make a difference in the community, and also aim to be more planet-friendly.
All these exciting ideas needed to be shared; our chic guide to relaxed home entertaining provides the perfect atmosphere to do just that. And finally, we talk to illustrator Laura Nevill who's spearheading our creative collaboration with London's emerging artists via a clever takeover of our space. With such inspiring people and ideas around us, we think you'll agree we've got a lot to celebrate.