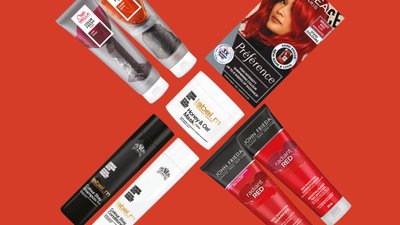 Lifestyle
Products to keep red hair in top condition
Red hair is having a moment, but wasn't it always? We find out how to master the hottest of hair hues.
Red communicates strength, passion, individuality and sex appeal. From Rosetti's titian-tressed Pre- Raphaelite muses, to wartime pin-up Rita Hayworth and fiery-maned supermodel Karen Elson, red is a colour that carries cachet.
True redheads are a rare breed, forming only two percent of the planet's populace. Our scarlet-locked ancestors originated in central Asia 50,000 years ago – the mutated MC1R gene causing pale skin, freckles and red hair.
Thankfully, the advent of hair dye enabled the rest of us to indulge our flame-haired fantasies. And Francesco Fontana, International Technical Director at Toni&Guy, has seen a definite uptick in demand from his clients. He puts this partly down to the fact that red is a colour that can suit everyone. "It's so wearable because of its huge spectrum: ranging from cooler reds with blue and violet tones, to warmer shades of copper and strawberry blonde – it's quite easy to find the right shade for you."
For afro hair, Fontana stresses that hydration is key, and urges clients to pay attention to their hair's natural texture. "With darker skin tones the hair is naturally really dehydrated. For vibrancy, hair might need to be treated with a pre-lifting agent which could compromise the condition and the elasticity of the curl. The tighter the curl, the more risky that becomes. If we are dealing with somebody with a 4C curl, it's quite a lot of stress for the hair to be pre-lifted and then toned, whereas if you're talking about somebody with a 3A sort of curl, it's a different conversation. My suggestion is always to keep hair as conditioned as possible for the truest colour."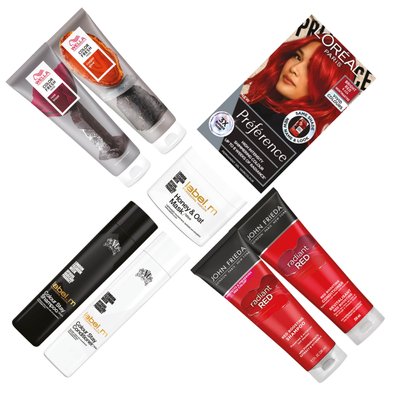 For those of us short of time, Jodie Macdonald, Regional Educator for Supercuts, suggests a Wella Colour Fresh Mask. "You'll get results in just 10 minutes with these zero-damage, temporary colour-depositing masks," she says. Copper Glow, Red and Rose Blaze are part of the 10-tone collection; perfect for maintaining or transforming colour.
Today's home hair-dye kits are more advanced than ever, with off-the-shelf colours available including subtle gingersnap shades such as Clairol's Nice'n Easy Crème Oil Infused Permanent Hair Dye in Golden Auburn (£6.89 at Boots) and bolder hued L'Oréal Paris Préférence Vivids (Colorista) Hair Dye in Bright Red (£6.99 at Superdrug).
John Frieda's Radiant Red range of shampoos and conditioners promises to extend the lifespan of your hair colour – something to factor in as red is a high-maintenance tone. "Red is a pigment that fades very quickly, but colour maintenance starts right from the first salon visit," explains Fontana. Bonding treatments, in-between salon colour revives and a comprehensive aftercare regime are essential. "At home, I'd recommend using our label.m Colour Stay Shampoo (£13.75) and Conditioner (£17.25) and the label.m Honey and Oat Mask (£17.25)," he says. "They're perfect to lock in colour and prevent fading."