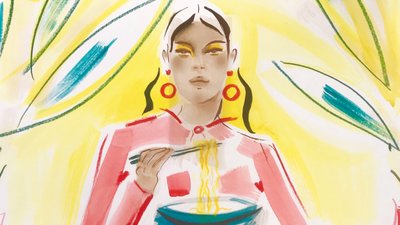 Lifestyle
What makes noodles so appetizing?
We take a closer look at the staple at the heart of cuisines throughout the world.
A versatile staple in dishes the world over, the noodle is a simple concept. These strands of unleavened dough, rolled, cut and stretched, have been loved for centuries and provide a carby basis for many global cuisines. Yet their origins are hotly contested. Some claim Venetian trader Marco Polo introduced the food to Europe following a jaunt to China. Yet the earliest evidence to date emerged in 2005, when lucky archaeologists discovered a 4,000-year-old bowl of noodles at a prehistoric site in China. Further accounts find noodles appearing across cultures globally with wheat udon noodles in Japan, Indian idiyappam rice noodles and German egg spätzle.
While their ingredients may be simple, making noodles is a labour of love. "We grew up with our families making fresh pasta every weekend," says Simone Remoli, founder and chef at Pasta Remoli, recalling the sound of tagliatelle being cut by hand on the kitchen table. His restaurant prides itself on its homemade pasta, made with good-quality eggs and double-zero flour. "The magic happens when you work the pasta with a rolling pin," says Remoli. "You can play with the thickness: one centimetre for pappardelle, a half-centimetre for tagliatelle or very thin for capellini. We can't cut spaghetti by hand – you need a pasta machine to make that lovely thin round shape."
Different styles also inform Thai cuisine. "Rice noodles are great at soaking up sauces, so they're often used in stir-fries," says Saiphin Moore, head chef and co-owner of Rosa's Thai Cafe. "Meanwhile, egg noodles are great in spicy soups and curry sauces as they don't soak up too much flavour." Specialising in authentic Thai cuisine, Moore's restaurants serve dishes from across the country. "Each region in Thailand has their take on a noodle dish. In the north, where I'm from, khao soi egg noodles with red curry sauce are the best known," she says.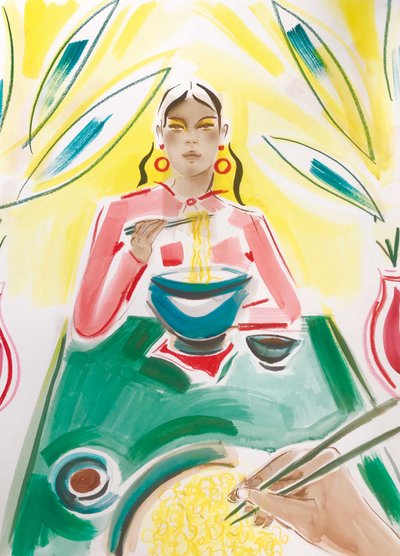 Our love for noodles is universal, as reflected in the abundance of options available in centre, from the cuisines of Thailand, Malaysia, Japan or Vietnam, to Italian pasta dishes. One thing that unites them all? A passion for authenticity and tradition, with Moore advising using chopsticks for eating Thai noodles, while Remoli encourages the use of bread to mop up any remaining sauce. Whatever your preferred way of eating noodles, be sure to remember a napkin.
We tried, we loved
Some of Westfield Stratford City's best dishes.
Pasta Remoli
Try tagliatelle served with a rich bolognese ragù sauce stemming from founder Simone Remoli's secret family recipe.
Pho
Pho Xào – wok-fried flat rice noodles with lemongrass, chilli, Asian greens and a sprinkle of peanuts.
Rosa's Thai Cafe
Pad Thai – a fragrant stir-fry of rice noodles with bean sprouts, egg and sweet and sour tamarind sourced from head chef Saiphin Moore's hometown in Petchabun.
Lotus Leaf
The noodles here are handmade, served stir-fried with your choice of meat, king prawns or veg.
Rasa Malaysia
Penang Asam Laksa – thick, chewy udon noodles served in a flavoursome fish broth packed with fresh veg, sweet pineapple and slices of hard-boiled egg.