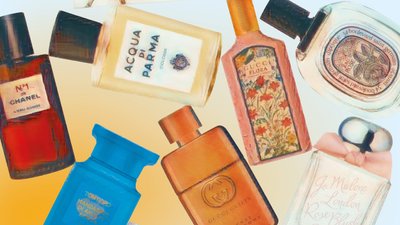 Lifestyle
Sniff Out Your Essential Scent for Spring
From timeless classics to feel-good florals, find your scent profile with our picks of the must-sniff perfumes for spring.
Picking out the perfect perfume can sometimes feel like a herculean task. Not only do you have to contend with the sensory assault of 'top notes' and 'base notes', but there's also the perfume's staying power to consider, not to mention the all-important bottle design. What's more, a study found that scent receptors vary by up to 30 percent from person to person *, which could explain why one wearer's 'forever fragrance' is a total eau no to someone else. That's why we're on hand to help you on your olfactory journey, by sniffing out the best fragrances across four key perfume categories. Prepare to indulge your senses.
Flower Power
Floral scents are among the most popular thanks to their light, subtle notes (read: inoffensive) and seasonal appeal. Boasting a distinctive, dressing-table-worthy bottle, Gucci Flora is a classic scent with a modern twist. The fragrance is built around the gardenia flower, with base notes of brown sugar and patchouli for an elegant sweetness that's hard not to love. For rose fans, Diptyque Eau Rose is a beautiful scent with excellent staying power. It features notes of blackcurrant, bergamot and lychee which combine perfectly to give the unmistakable aroma of freshly cut roses. For something a little lighter, Jo Malone London Rose Blush Cologne cleverly blends tender pink rose petals with vibrant basil and white musk for a springtime scent that's crisp and uplifting.
Feeling Fruity
When it comes to bright, pick-me-up scents, you can't go wrong with a summer-inspired fragrance. Case in point is Dolce & Gabbana's Fruit Collection Lemon, which has a lively citrus smell with bergamot and ginger for added zing. Its playful fruit bottle cap is a masterstroke; we defy you not to smile every time you spritz this on. For equally feel-good vibes, turn to Juliette Has A Gun Pear Inc, which evokes hazy sunshine-filled days thanks to its notes of green pear combined with ambroxan and musk. Or try Marc Jacobs Perfect which pairs rhubarb and daffodil for a juicy yet clean smelling scent that you'll want to wear everywhere, while chanting the mantra: "I'm perfect as I am."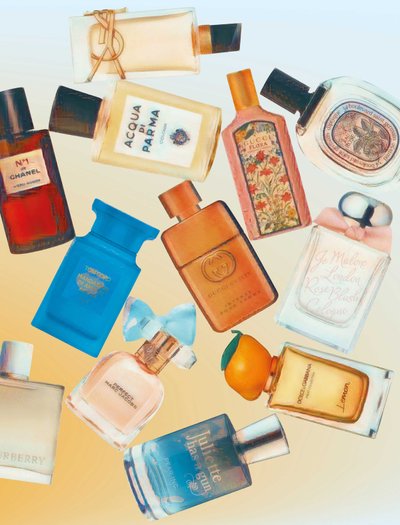 Hello Fresh
Are you in search of a scent that says "effortless charm"? Then look no further. Tom Ford Mandarino Di Amalfi Acqua is a great all-rounder, with a mix of marine accord, bergamot, mint and wildflower notes that combine to give a clean yet aromatic fragrance that is dynamic and inherently energising. Burberry Her is a soft scent that you'll want to wear year-round, thanks to its intriguing blend of peony, strawberry, pink peppercorn and cedarwood. Extra points go to its sleek, understated design that lets the fragrance speak for itself. Finally, if you're a fan of Chanel be sure to get on the list for the new fragrance mist/perfume hybrid Chanel No.1 L'Eau Rouge. With its blend of red camellia, jasmine, tart berries and iris, it's a refreshing, feminine fragrance and has all the hallmarks of being another Chanel classic.
Earthy Delights
If you're in the mood for seduction, then a woody, spicy scent is your go-to. Classic unisex fragrance Acqua Di Parma is proof that a good scent never goes out of style. With base notes of leather, wood, amber and Indian patchouli, it's impactful without being overpowering, and the Art Deco-inspired bottle is nothing short of iconic. For a sultry scent with plenty of personality, try Gucci Guilty Pour Femme. Notes of patchouli, mandora and pink pepper punctuate the fragrance and make for a rich, evocative perfume that will take pride of place on your dressing table. Another sensual scent that packs a punch is YSL Libre. This chic fragrance combines white musk, vanilla and neroli for a powerful yet languorous aroma with maximum longevity.
Source: Monell Chemical Senses Centre 2013