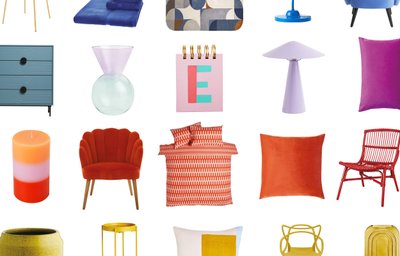 Lifestyle
Make a Statement with Bright and Bold Home Décor
Pop colours and striking prints are the new way to make your interiors stand out this summer.
Need positivity in your life? As we emerge from several dull and muted years, a brighter, more daring colour palette is just the tonic for reinvigorating our homes and keeping our spirits lifted. Swapping safe neutrals for zingy brights when decorating can be daunting – but there are simple ways to kick-start your adventure.
Start small: introduce bold tones into a room by way of accessories or a vivid wall print. If you're not quite ready to take the plunge with a coloured wall or flooring, why not try it on the changeable spaces in your home? For a dramatic new look that you can switch up every week, add an eye-catching duvet or drape a vibrant throw on your bed or scatter graphic print cushions on your sofa.
Once you've taken your first tentative steps into the world of colour, don't hold back from adding in other tones to best effect. Choose colours that are all of the same value and they will work together, no matter the palette. If you're leaning toward super-saturated colour, then pick similar rich hues to complement the overall aesthetic. Alternatively, create contrast by mixing together lighter and darker shades with similar undertones. Then sit back and soak up the mood-boosting power of your freshly re-energised space.