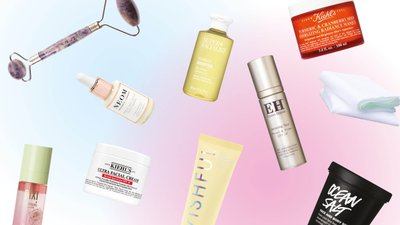 Lifestyle
Glowing autumn-winter skincare products
Keep glowing long after the sun stops shining with our top transitional skincare tips.
As the weather changes so should your skincare routine. A change in season typically means a change in the way your skin behaves. So to help you sidestep dryness, pigmentation, breakouts and a general lacklustre complexion, incorporate our suggestions to create radiant skin for the months ahead.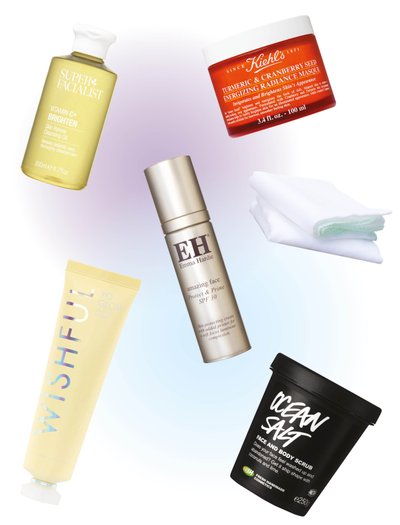 Pure Thoughts
It might even look greasy as it overcompensates for the lack of moisture. Keep skin balanced and well-hydrated with an oil-based cleanser like Super Facialist Vitamin C+ Skin Renew Cleansing Oil, £8 at Boots. This lightweight oil is infused with brightening vitamin C and promises to remove every last trace of make-up, along with dirt and impurities. Simply massage into skin and add warm water to transform it into a milky lotion, then wash off using a good-quality muslin face cloth – we love Liz Earle Pure Muslin Cloths, £4.75 for two at John Lewis & Partners.
Feeling Buff
A scrub is key to revealing brighter, smoother skin. Dead skin cells build up over time and this can take its toll on your complexion leading to clogged pores and uneven skin tone. Reveal brighter skin instantly with a gentle exfoliator. Wishful Yo Glow Facial Enzyme Scrub, £18 at Boots is the holy grail thanks to its clever, non-gritty formulation containing skin brightening AHAs and BHAs (both 'wonder' ingredients for helping to retexturise skin). Apply a generous amount to clean, dry skin and gently massage in circular movements to roll away dead skin cells and impurities. It's important to remember that it's not only your face that will benefit from a slough. Lush's Ocean Salt self-preserving face and body scrub, £12, will reinvigorate your skin from top to toe. And it doesn't just do good things for your skin – the main ingredient is responsibly sourced from Portuguese and Bulgarian salt pans that provide essential shelter for migrating birds.
There's the rub
Facial massage is your secret weapon when it comes to revealing brighter skin. It works by increasing circulation, eliminating excess fluid (bye-bye puffy eyes) and improves the tone of your skin. Facial massage newbies should reach for Skin Gym Amethyst Facial Roller, £57 at John Lewis & Partners. This nifty device has a refreshing and cooling effect and is great at calming stressed-out skin. Roll it in upwards and outwards movements paying special attention to the jawline, cheekbones and under-eye area. For an even fresher glow, apply Neom Organics London Great Day Glow Face Serum, £45 at John Lewis & Partners, then use the roller to gently massage the product into your skin.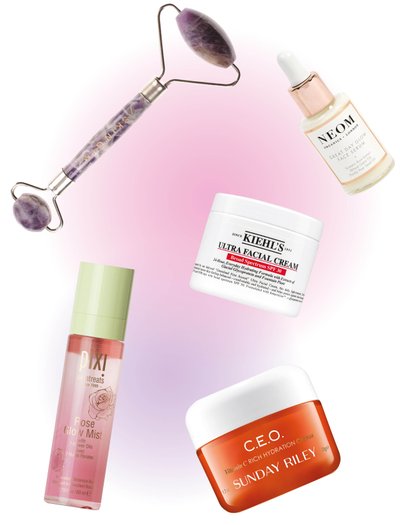 Once or twice a week incorporate a mask into your routine to help keep skin looking soft, plump and super-fresh. Try Kiehl's Turmeric & Cranberry Seed Energising Radiance Masque, £38. A self-proclaimed 'instant facial', it promises to brighten and energise the look of skin with its invigorating cranberry and turmeric formula. For the best results, apply after cleansing and leave the mask to dry for five to 10 minutes. Rinse with warm water and massage in circular motions to allow the cranberry seeds to exfoliate your skin.
A real glow-getter
good-quality moisturiser is an essential part of your glow regime. Sunday Riley C.E.O. Vitamin C Rich Hydration Cream, £60 at John Lewis & Partners, is a deeply nourishing cream that's infused with 5% vitamin C to visibly brighten dull skin and fight dehydration and damage. Apply the citrus-scented cream in the morning for instantly refreshed, invigorated skin. When you're out and about, you can top up your glow with a hydrating face mist such as Pixi Rose Glow Mist, £16 at Marks & Spencer. This clever multitasker (which can also be used on hair) contains seven flower oils including rose oil and argan oil to help hydrate, boost radiance and provide free radical protection.
Screentime
Despite deceptive weather conditions, UVA rays are just as strong in the colder months as they are in summer, and are, therefore, just as likely to cause serious damage. So remember to wear daily sunscreen. Emma Hardie Protect & Prime SPF30, £46 at Marks & Spencer gives the skin eight hours of daily protection against UVA and UVB. Skincare maestro Hardie's light diffusing formulation evens out the complexion and blurs the appearance of fine lines and pores. And it's versatile; you can layer it on top of your moisturiser for added hydration. If you still hanker after a cream that can both moisturise and hydrate, then Kiehl's Ultra Facial Cream SPF 30, £28.50 is light, non-greasy and particularly suited to harsher weather conditions, whilst providing silky, smooth skin for up to 24 hours.