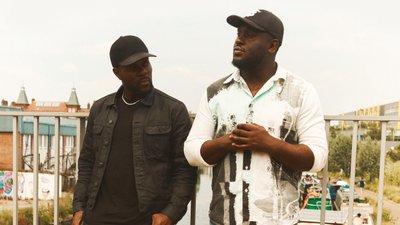 Features
Westfield East Bank Creative Futures Fund
Championing personal development and career progression one grant at a time.
Zak Khalil, founder of the XConversation podcast, knows first-hand about the struggles young offenders face when it comes to breaking the cycle of crime. "I ended up on the wrong path," explains Khalil. "And then went to prison three times between the ages of 17 and 26." It wasn't until he benefitted from what he calls "personalised mentoring" that Khalil was able to shift "to a pathway that didn't discriminate or hold my past against me." Based on Stratford's Celebration Avenue, Khalil's inspirational XConversation podcast champions the reformation of young ex-offenders with "lived experience of the criminal justice sy stem," he says. "These people need support to achieve their ambitions, but also to be in a space where they're not judged, where they're listened to, and where they can fully express themselves." XConversation conducts podcast interviews, workshops and programmes focusing on building resilience and employability skills including developing professional CVs, interview techniques, public speaking and digital expertise.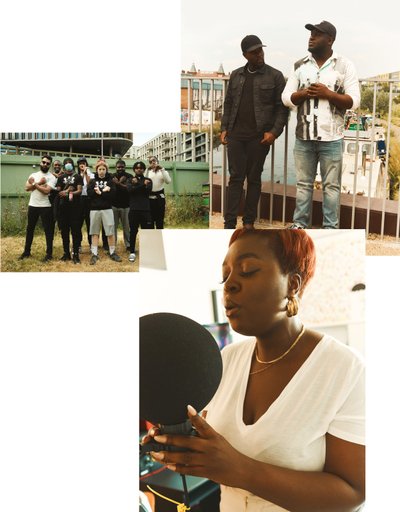 XConversation is just one of 155 enterprising local projects funded by the Westfield East Bank Creative Futures Fund. This ambitious five-year programme will invest £10 million into the local communities of Newham, Tower Hamlets, Hackney and Waltham Forest and has already transformed lives by offering more than 12,000 employment and training opportunities to 22,000 participants.
Projects who have recieved funding in the first three years include a women-led textiles cooperative, a platform for female domestic abuse survivors and a free creative programme for East London schoolchildren. A key recipient is The Healing Tour, a personal development programme for women in Hackney and Tower Hamlets. The initiative was founded by wellbeing consultant, singer, author, Tiwa King, who was recently named one of the NatWest Wise100 2023 – a list recognising the leading women in social enterprise. "The Healing Tour is focused on the wellbeing of women from under-resourced backgrouxnds," says King. "We help them develop confidence and build the skills needed to create the life they love – using their voices to empower their communities."
King's programme provides a safe, non-judgemental space for women to express themselves. "Our core value," she says, "is that 'healed people heal people.'" According to King, The Healing Tour was a direct response to the Covid-19 pandemic. "I started doing live personal development sessions on Instagram as a pick-me-up and one of the women said, 'The loss of my child during Covid made me feel lost. I didn't know how much I needed this safe space; I feel supported and ready to start actualising the ideas in my head.' So, I listened and created the programme, and that incredible woman went on to start a platform helping other women with her experience."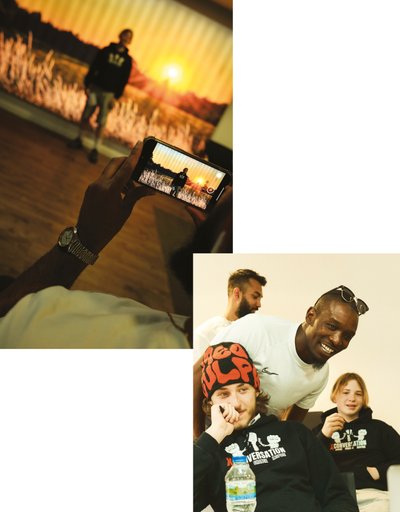 Another recipient, Woolwich Contemporary Print Fair, aims to help change the contemporary art world to better reflect the breadth of race, class and gender in young Londoners. "It's this democratic value which inspires us, and ignited the Young London Print Prize," says co-founder Matt Bell. "This helps young artists [aged 10 to 17] break through the barriers – both real and perceived – to the contemporary art world." The prize will work with 10 schools and 500 young artists in Newham and Tower Hamlets to showcase their creative skills on a London-wide programme "exploring the concept of climate art".
Creative Futures Fund? It's the brainchild of local independent charity Foundation for Future London, established in 2015 to champion Hackney, Newham, Tower Hamlets and Waltham Forest by creating employment opportunities through arts, education, culture, innovation and placemaking. Foundation for Future London's Director of Programmes and Communications, Sarah Nelson, says that their partnership with Westfield Stratford City is about "an understanding that a fundraising charity has the ability to reach out to communities in a way that large corporates may not be able to. East London is home to two million people: we ensure there are equitable opportunities and fair regeneration where everyone gets to benefit, and no one is left behind. Our vision is for a vibrant and inclusive creative East London in partnership with local organisations, boroughs, philanthropic donors and many others."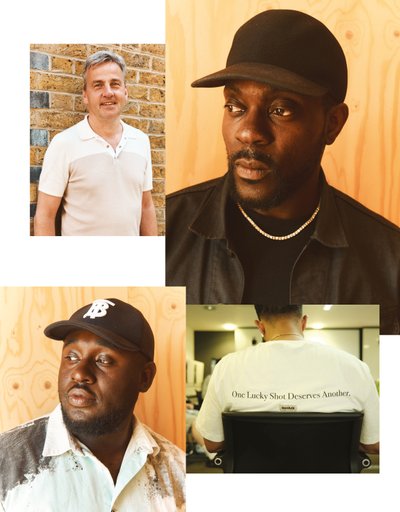 The foundation's team spends time "listening to local voices and connecting people and institutions, from bustling street markets and homeless shelters to hushed galleries and auditoriums," explains Nelson. "We're keen to connect local communities to the new East Bank centre of culture, education, innovation and growth being built on the Queen Elizabeth Olympic Park. Our projects give people a sense of place and belonging – which in turn improves their life chances."
This connection and sense of belonging is the drive behind another grant winner, Newham-based Ruff Sqwad Arts Foundation (RSAF). Founded by grime legends Prince Owusu-Agyekum (aka Rapid) and Ebenezer Ayerh (aka Slix), RSAF's focus is purely on the creative industries. "It's about bridging the gap between the marginalised and the mainstream, and helping young people fulfil their creative careers," says Ayerh. The pair were awarded a large grant for their Full Clip Winternship project, so called as "it's a paid opportunity for local young people – hence winternship not internship." Over 12 months, they're giving work experience to 36 young creatives in the Olympic boroughs who'll get the chance to engage in film and weekly workshops, "from scriptwriting to directing, costume, cinematography and photography," says Ayerh, "and at the end they'll put together a short film." In the long-term, RSAF hopes to "roll this project out annually, delivering a meaningful project for young people."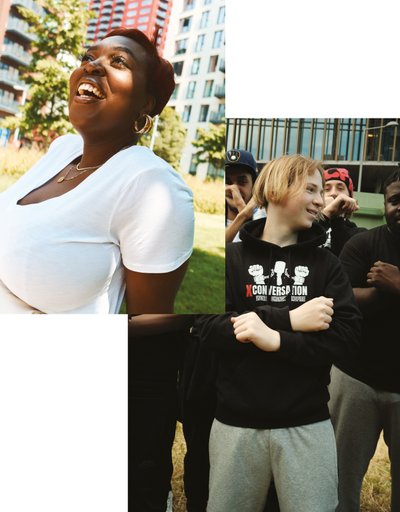 So, how does it feel to win one of the Westfield East Bank Creative Futures Fund's coveted grants? "It's exciting and motivating," says Khalil. "It means that we can aid talented young East Londoners and be part of their growth and journey, it's a beautiful thing". King also feels blessed: "I cried," she says. "It was an incredible feeling to know that my vision for the world was valued, understood and shared. I also imagined the stories and lives that would be touched as a result of being funded. I truly believe every person, especially women, are already agents of change – and need help to lead this change."
Year 4 application process
For 2023, the Small and Medium Grant Schemes will accept applications starting from £1,000 and up to £5,000 and £15,000 respectively, while the Large Grant Scheme accepts applications up to £50,000. Applicants can only apply for one grant scheme in this round, unlike in previous years. For all three schemes, at the heart of the project must be a core commitment to one or more of the following: employment opportunities, learning opportunities young people, business and entrepreneur support, and short- and long-term goals. For advice on applying, please contact Capacity Building Programme lead Lisa Stepanovic on capacitybuilding.ffl@outlook.com. For further information, visit: future.london/programme/westfield-east-bank-creative-futures-fun