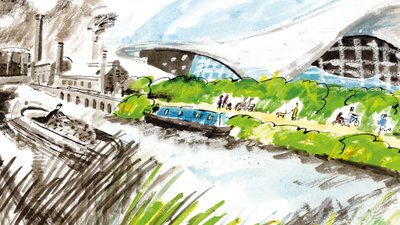 Features
Find out the history of the River Lea
Uncovering the River Lea's journey through fortune, fame and industry.
Over the centuries, the short stretch of the River Lea that flows through the Queen Elizabeth Olympic Park has been the site of incredible rise, fall and rebirth. Following a period of neglect in the 20th century, the arrival of the Olympic Games in 2012 put the London district of Stratford in the global spotlight, transforming a long-overlooked area that had once been an economic powerhouse.
Today the tree-lined banks of the River Lea are home to Zaha Hadid's curvaceous London Aquatics Centre, the Olympic Stadium and Anish Kapoor's striking orbital sculpture. The new landmarks are emblematic of the dynamic area Stratford has become, but what industries defined its past?
Known as the Bow Back Rivers, this network of waterways dates back to the 12th century, when the river was used to power water mills. As industry prospered, this section of river became a thriving thoroughfare, carrying raw materials up from the River Thames and housing swathes of factories on its banks. On the site of the London Aquatics Centre – its design inspired by the fluid shape of water – stood a number of tallow works. Here, rendered animal fats fed straight into the output of the neighbouring Lea Bank Soap & Candle Works. Downstream, the prolific Lea Valley Distillery was founded in the 1880s, producing whisky from malt brought down the River Lea from Ware.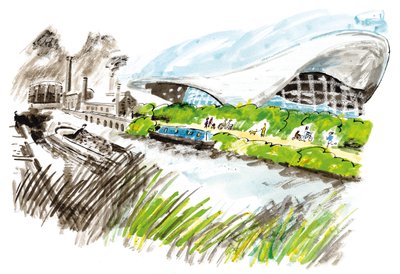 The Lower Lea Valley's decline began in earnest after the Second World War, when many of its industries wound down or relocated. By the 1960s the waterways were classified as unnavigable, becoming a dumping ground for industrial waste in the decades that followed. Sadly, it remained untouched and unloved for another 50 years until the 2012 Olympic Games transformed the entire area beyond recognition.
Preparation for the Games saw the Stratford stretch of the River Lea dredged and decontaminated, while the creation of the Three Mills Lock stabilised water levels. The Queen Elizabeth Olympic Park became a site for sporting excellence, yet the Games' legacy will last far longer. Reversing almost a century of decline, this stretch of the River Lea is buoyant once again, flanked by world-class sporting facilities and a regenerative space that provides a true breath of fresh air for a new generation of East Londoners.