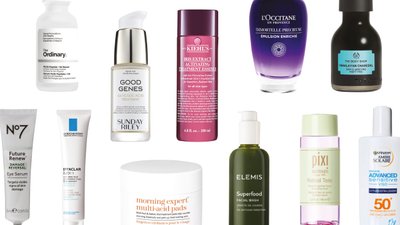 Features
Pretty Formulaic
Pare back on products and save time, money and confusion with these expert multitaskers.
AHA + BHA + vitamin C = ? Having spent the last few years cocktailing single ingredient elixirs as part of a complex and lengthy daily regime, we're now yearning for some expertly formulated, multitasking products that will take the guesswork out of the skincare equation. From two-in-one formulas to doit- all hybrids, here's our edit of products that pack a real punch when it comes to multiple active ingredients, making your summer beauty regime simple and stress-free.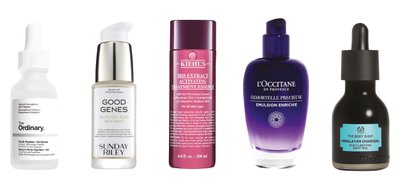 Pep talk
Innovative skincare brand The Ordinary doesn't only offer formulas based on one benefit per product. Their Multi-Peptide + HA Serum, £14.30 at Boots, is a water-based serum that harnesses the power of no less than four peptides, amino acids and a clutch of hyaluronic acid complexes to banish crow's feet and restore skin's elasticity and firmness.
What lies beneath
A couple of targeted pumps of Sunday Riley Good Genes Glycolic Acid Treatment, £70 at John Lewis & Partners, rapidly sloughs away dead cells and eradicates the signs of sun damage for instantly rejuvenated skin. At the same time, fermented prickly pear extract works in tandem with skin-purifying lemongrass to calm the complexion and gently soothe any irritation.
Well-refined
A potent cocktail of lipo hydroxy acid and sodium hyaluronate, Kiehl's Iris Extract Activating Essence Treatment, £42, helps to simultaneously hydrate, exfoliate and refine the skin's texture, priming it and forming a transparent film on the surface to lock in moisture. Meanwhile, hand-harvested iris florentina root extract assists in gently bolstering the skin's natural barrier.
Pore decisions
A nourishing yet fast-absorbing milky lotion, L'Occitane Immortelle Precious Emulsion, £59, blends skin-plumping micro hyaluronic acid with essential oils from one of Corsica's native flora, the immortelle flower. Rich in active molecules, these essential oils stave off the ageing process and protect skin from external pollutants, while lentil extract helps to refine texture and minimise pores.
Am I being clear?
Wake up with a glowing complexion thanks to a couple of drops of The Body Shop Himalayan Charcoal Skin Clarifying Night Peel, £22, an impressive gel-to-peel overnight potion. Organic hibiscus flower-derived acids gently exfoliate to improve the skin's texture, while bamboo charcoal and astringent salicylic acid draw out impurities and keep sebum levels in check – the perfect foil for oily, acne-prone skin.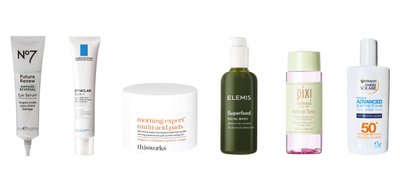 Eye-spy
A shot of this lightweight Boots No7 Future Renew Eye Serum, £24.95, morning and night tackles tired eyes and fine lines with a potent combination of peptides, skin-plumping hyaluronic acid and niacinamide. Along with vitamins C and E and mulberry extract, these knit together to support the production of collagen and fibrillin – both vital to the skin's natural repair process.
Hit the spot
Keep blemishes at bay with La Roche-Posay Effaclar Duo+ Anti-Blemish Moisturiser, £18.49 at Superdrug, a small-butmighty complexion-correcting gel moisturiser that uses lipo hydroxy acid, salicylic acid and niacinamide to unclog pores and smooth texture. Zinc PCA and procerad help to control shine and minimise dark spots, while a dose of glycerin keeps skin hydrated without leaving it feeling greasy.
Morning glory
These travel-friendly exfoliator pads serve up a daily dose of naturally occurring alpha-hydroxy acids to remove dead skin cells and mattify morning shine. This Works Morning Expert Multi-Acid Pads, £33 at John Lewis & Partners, are made of 100 percent biodegradable cotton and contain liquorice root extract to calm inflammation, while blemishbusting azelaic acid and vitamin B3 reduce breakouts and fortify flagging skin.
Five-a-day
A deep-cleansing gel formula packed with nutrient-rich superfoods including broccoli, wheatgrass, kale, avocado and pumpkin seed oil to nourish and hydrate, Elemis Superfood Facial Wash, £30 at John Lewis & Partners, is ideal for tired, lacklustre complexions. This naturally derived face wash is also infused with an active prebiotic to protect the skin's delicate microflora.
Just the tonic
Formulated with time-release retinol to reduce fine lines without flaking, Pixi Retinol Tonic, £10 at Marks & Spencer, is a multi-active toner that also contains peptides to firm up skin while boosting collagen production to plump and promote elasticity. Meanwhile, jasmine flower naturally reduces redness and balances moisture levels for a radiant glow.
Sunny delight
A summer SPF is non-negotiable and this SPF50 Ambre Solaire version is a purse-friendly swap of a pricier cult favourite. With a feather-light texture ideal for layering under make-up, Super UV Anti Dark Spots & Anti Pollution Face Fluid SPF50+, £12 (40ml) at Boots, is also enriched with hydrating hyaluronic acid and vitamin E to combat dark spots and protect skin from oxidative stress caused by pollution.