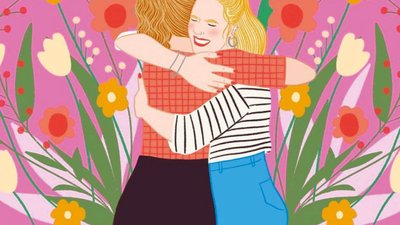 Features
Learn about our new collab, providing a platform for emerging talent
We've teamed up with East London-based artist Laura Nevill to showcase the city's up-and-coming creatives.
In May, when Sadiq Khan unveiled a David Hockney iPad drawing in the Piccadilly Circus Underground as part of his Let's Do London campaign, Laura Nevill had a thing or two to say about it.
Writing on social media, the East London-based artist mused, "I think we should get Sadiq Khan to use the #LetsDoLondon campaign to highlight actual London artists who have such incredible talents and important messages to showcase." In an accompanying image, she had replaced Hockney's original image, a bright yellow circle and purple stripe, with an artwork of her own, a pastel pink background emblazoned with the lockdown-inspired slogan: "I did nothing today and that's okay".
Tagging Khan on Instagram and encouraging followers to share the hashtag #LetsDoLondonBetter, her message quickly spread as fellow artists followed suit by mocking up their own Tube artworks. While Nevill's actions proved to be ingenious, to her they seemed crucial. "I really felt like this was a missed opportunity to showcase some of the remarkable creative talent that the city has to offer, and support a community that has been hard hit by the pandemic," she explains.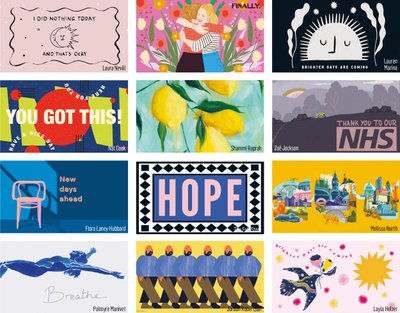 Has Nevill's guerrilla approach to public art paid off? "The response was incredible," she beams. "It seems that a lot of people would love to see more inspiring, inclusive and positive artworks around the city." While she may still be waiting on Sadiq Khan's call, there are plenty of other opportunities on the horizon, including a collaboration with Westfield for which Nevill selected the works of 30 emerging London artists to be displayed on digital touch-screens throughout its centres.
For the artists featured, this project will no doubt provide important exposure. "It has been incredible to be able to provide a platform for emerging London artists and show off just how talented the creative community within the city is," she concludes. And with her curated exhibition of London's brightest creative voices in the works at Westfield Stratford City, Nevill is showcasing what she does best: championing rising voices in art.
Find out more at lauranevill.co.uk/lets-do-london-better