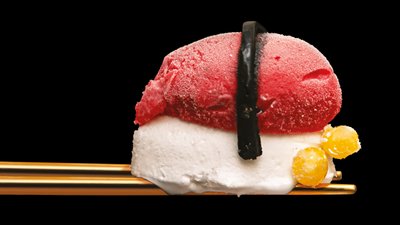 Features
Cream of the Chop
GelaRto is changing the dessert game with their surreal, sweet treats – it's ice cream, but shaped and served like sushi.
Amid the buzz and bustle at Westfield Stratford City, a brightly coloured procession of bundles, wraps and rolls of salmon pink and sunny citrus cheerfully snakes its way around a tiny conveyor belt. From here the parcels will be selected and served with chopsticks.
At first glance, you might think you were at a sushi pop-up, but look closely and you'll get a sweet surprise: these ingenious treats are ice-cold – and make a delicious dessert. Sold from the GelaRto kiosk on the centre's Lower Ground Floor, these Instagrammable bites are made from gelato and sorbet, carefully crafted to resemble the traditional fish and rice. Employing flavours like pistachio and white chocolate, or raspberry and Caribbean lime, this Japanese-Italian crossover is the first of its kind in the UK.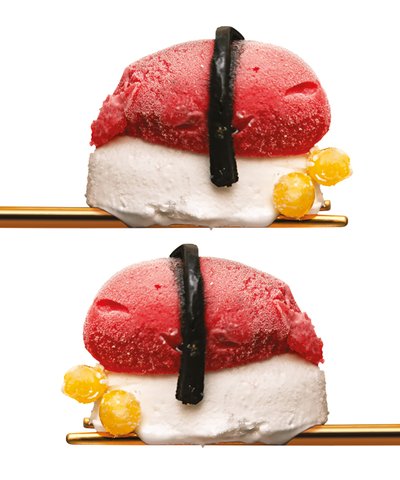 Gelato sushi may be new to these shores, but GelaRto's charismatic Managing Director, Angus Smith, confirms that this curiously inventive combination has already made waves elsewhere. "We started our new gelato sushi concept in our gelaterias in Turin before taking the idea to New York and now London," says Smith. The clever juxtaposition of imagery and flavour has helped the brand stand out as it takes on the British market. "We opened our first UK store in August 2021 and introduced London to our gelato sushi," he adds.
So how does it work? Customers make their selection from a set menu, then their picks are delivered in true sushi style. "We send your order to you on a sushi train and serve it with chopsticks – for the brave," says Smith. This is, he adds, also a great way for gelato fans to sample the full range of flavours GelaRto has to offer, while enjoying a new experience with friends. "With one piece of sushi gelato, you can try two or three different flavours in one go," he says. "It's fun to get a group of people sitting down [at the kiosk], trying to eat with chopsticks and getting a brain freeze."
While quirky and playful in concept, GelaRto has authenticity at its heart. "Our gelato has been made by the Grassi family in Turin since 1986," explains Smith. "We have our own herd of cows situated on a glorious farm in the foothills of the Alps." The gelato is expertly made from scratch, using top-quality ingredients such as Piedmont water, fresh milk and whole fruit wherever possible. Special additions from farther afield include Sicilian lemons and vanilla beans from Madagascar.
If the idea of gelato sushi is a little too avant-garde for your taste, there's still plenty to try at GelaRto. You can enjoy your gelato served in a traditional cone or cup, choosing from a vast range of flavours including Oreo, vanilla, coconut, salted caramel and coffee (Smith recommends nocciolata, a classic blend of chocolate, hazelnut and mascarpone). There's also a vegan-friendly range of sorbets, plus waffles and crêpes for the ultimate ice cream upgrade. In fact, there's something for everyone – provided you have a sweet tooth, that is.
GelaRto, Lower Ground Floor