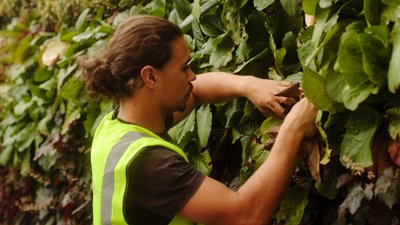 Features
Living walls at Westfield Stratford City
The future is green for the walls of Westfield.
For all of the capital's concrete and tarmac, London is filled with hundreds of bird and insect species, and almost nine-million trees. Still, there's room for more. Living walls help regulate our buildings' temperatures, reduce noise pollution and attract wildlife – a striking example of biophilic design bringing our centres closer to nature. In 2017 landscapers Urban Planters were drafted in to overhaul our original living walls. The refresh replaced smaller plug planting with robust, two-litre planters that make an instant impression – a leafy oasis of green amid London's sprawling urban backdrop.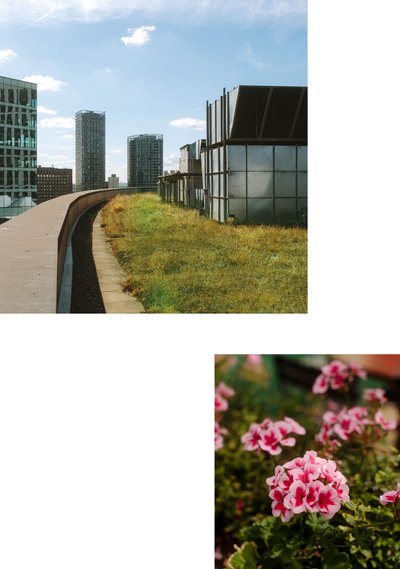 The result is a staggering 78,000 plants that scale walls and encircle columns across 1,500 square metres at both centres, each species meticulously selected with a purpose in mind. "We want to put in as much colour as we can – not only to look nice, but also to aid with the biodiversity impact," says Thomas Palfreyman, Managing Director at Urban Planters. "We put a very long flowering cycle in from early in the spring through to late autumn to provide food and hidey-holes for insects, bees, birds and butterflies," he adds.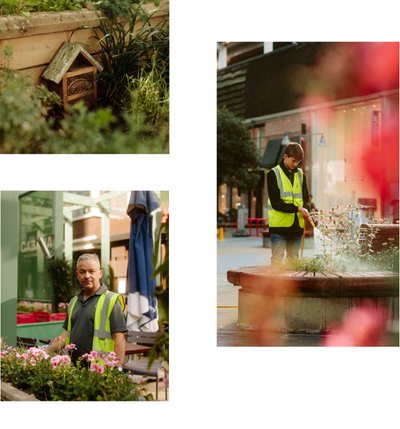 Bird boxes have also been installed in the roof areas, as well as insect hotels in the plant beds at Westfield Stratford City to encourage wildlife to flourish. "On the green walls you'll get species that come in from outside, and those species will then add to that biodiversity – nature will do its thing as well. So you'll find species that want to be there because the climate and the environment is perfect," says Duncan Newman, Director of Urban Planters.
The walls are an assortment of bee-friendly pollinator plants: verbena, buddleia and achillea, plus evergreen hebe and viburnum shrubs. While shady respite comes in the form of leafy ferns and Chinese fountain and feathertop grasses. A seasonal planting scheme leaves no month unsung, meaning hellebores and narcissus usher in spring and blousy hydrangea blooms jostle for attention with Japanese anemones over the headier summer months. Scented plants and herbs such as trailing rosemary, English lavender and thyme not only pique the olfactory senses, they mask air pollution – another key factor we were keen to address with our planting scheme.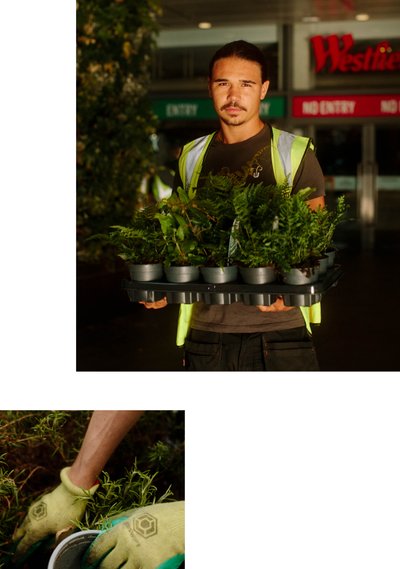 "With the internal wall we've tried to replicate the look and feel of the wall outside but, naturally, used interior plants," explains Newman. "The taxi rank is just outside, so you've got this wall that's doing a lot of work to improve the air quality as you enter the shopping centre," he explains.
These internal walls have been fitted out with an eclectic variety of indoor plants that lend texture and colour: long- leafed spider plants and soft-fronded lady ferns, trailing devil's ivy and the distinctive silver inch plant. As well as purifying the air around us, these plants act as a buffer between the centre and any traffic noise outside, muffling the sound for an altogether more serene shopping experience. "The walls give a real sense of arrival, and people feel happier and will spend longer in a place when they're connected with nature," says Newman.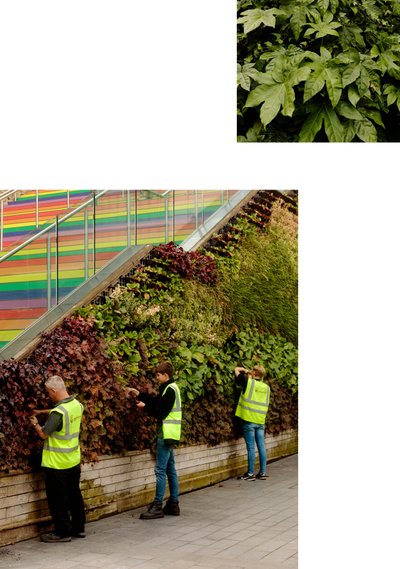 The Urban Planters team have their horticulturalists on site to tend to the green walls – a welcome sight for the customers, says Newman. "We have teams that work on both sites. Visitors like to see gardening going on and chat to the groundspeople and ask questions about the plants." Palfreyman adds: "The scenes are also changing with the seasons. It creates that photo conversation or that selfie spot – all of the good stuff that makes people want to go back."