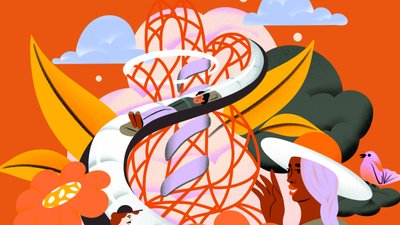 Features
The history of the Arcelor Mittal Orbit
Discover more about the landmark, just a short stroll from Westfield Stratford City.
The Elizabeth Olympic Park is home to a multitude of eye-catching structures, but only one is visible from every corner – and handily, it's only a few minutes' walk from Westfield Stratford City. But what is the history of the 114-metre-high ArcelorMittal Orbit and its daredevil slide designed by Turner Prize-winning sculptor Anish Kapoor and renowned German artist Carsten Höller?
The Orbit opened post-Olympics back in spring 2014, along with the rest of the park's meadows, wetlands and waterways. Made from 600 pre-fabricated star-like nodes and built by a dedicated team in Lancashire, it was assembled on site and then adorned with lifts and interior viewing platforms.
Science enthusiasts might thrill in the knowledge that there are four uses for ArcelorMittal steel in the Orbit – the red super- structure, the spiral stairs, the Corten steel of the canopy and the highly polished steel mirrors in the upper viewing platform. Fun fact: it would take 954 drinks cans stacked on top of each other to reach the top of the sculpture.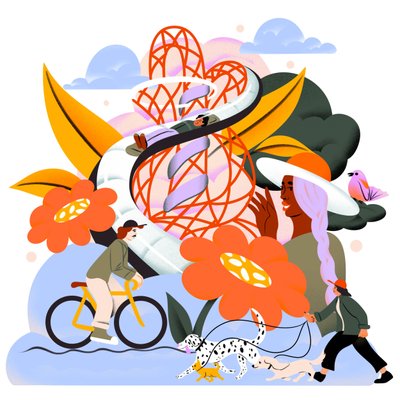 But now, let's explore this unique attraction. First, take the lift to the top and snap a selfie or two against the panoramic views over the City, as well as south, east and north London. On a good day the vistas stretch a whopping 20 miles. When you're done, simply ride the tunnel slide down; after all, it's the world's tallest and longest at 178 metres. The hair-raising 40-second descent comprises glaringly light sections and pitch-black ones, the former providing mid-scream glimpses of Queen Elizabeth Olympic Park and the stunning London skyline.
Once plunged into darkness you'll be left guessing which way you'll drop next. With speeds of up to 15mph, 12 twists and turns, and a rather devilish little corkscrew at the end named the 'bettfeder' – the German word for 'bedspring' – it's so blink- and-you-miss-it quick that the ride almost feels like a dream. (Or perhaps a nightmare, depending on your head for heights and zippy slides.) The most daunting part might actually be the anticipation as you edge nearer the top of the queue, watching punters climb into a body bag, before being briefed by staff on how to release themselves down the drop. But rest assured, once you're in and reach the point of no return, it's over before you can say 'bettfeder'.
ArcelorMittal Orbit, Queen Elizabeth Olympic Park, London E20 2AD. You must be eight years old or over, at least 1.3m tall and weigh under 149kg to ride the slide.